Vitrifrigo Compressor Minibars – The world's most cost-efficient minibars. The A+++ energy rating makes them the greenest minibars on the planet.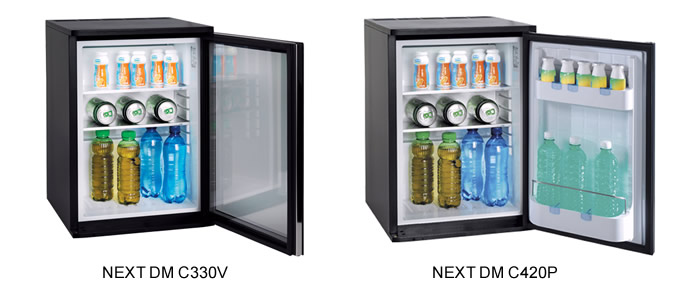 Vitrifrigo's NEXT DM series incorporates the latest technologies in refrigeration to run over 85% more economically than absorption minibars. And four times faster to cool the contents. Greener, too: they use a non-toxic natural gas refrigerant and a compressor that reduces the atmospheric emission by 430 times. Even if you have good hearing, and you are more than a metre away, you will not hear it.
You can choose from 33 and 40 litre capacities. Doors can be faced with tinted or clear glass (so your guests see the contents) or panelled (better efficiency). You also have the option of sliding hinges so that the furniture door is coupled to the minibar door. Very discreet!
PRICE EXAMPLE – The unit cost varies depending on the order (VAT and delivery is extra).
Please call and discuss prices based on your requirement. There is no obligation to purchase.
FREE TRIAL PERIOD – We are pleased to lend you a minibar of your choice for a month at no charge*. This will enable you to test the product and see its exceptional qualities for yourself. If you decide to keep the minibar, we will include it in your order at the unit price agreed.
* This offer includes delivery and is made on the premise that the minibar is returned in the same cosmetic and operating condition as delivered. We will make the arrangements for its return. Please note that if there is any fault on receipt, it must be reported in writing within ten days of despatch.
Prices – Please call 020 7199 8210 or email info@a3solutions.co.uk
Testimonial
Noise was a huge consideration for us too when selecting a minibar and we've been very satisfied. We also made adjustments to our closets (as recommended by Andrew) to allow for plenty of ventilation. They do look great, too, which is another huge advantage and the reason we were drawn to the NEXT DM minibar in the first place.
Rebecca Mofford, The Old Parsonage, Oxford