Vitrifrigo Absorption Minibars – A quality minibars combining cost efficiency with good performance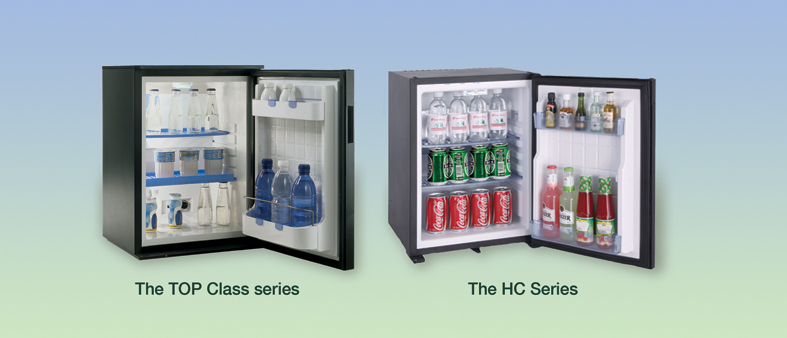 Beautiful Italian design blends with exceptional workmanship and reduced power consumption technology in a choice of two elegant, in-room minibar ranges that offer excellent value for money:
The TOP CLASS range operates with the new generation absorption unit and is designed to blend in with the existing bedroom furniture.
All TOP CLASS minibars have interior LED lights as standard. There is a choice of panelled doors, with and without sliding hinges, and a fully transparent glass door option which, with the interior light, makes an eye-catching presentation of the contents.
The HC LIGHT SERIES range offers an excellent combination of cost efficiency and performance. Manufactured to Vitrifrigo's stringent quality standards, the minibars are intended to be free-standing units although they can be built into the hotel room furniture,  You have the option of panelled doors in a choice of finishes or a glass-fronted door and with or without sliding hinges. Both have an interior LED lights.
The HC LIGHT SERIES range offers a slighter wider range of capacities; from 25 to 40 litres
Please call and discuss prices based on your requirement. There is no obligation to purchase.
FREE TRIAL PERIOD – We are pleased to lend you a minibar of your choice for a month at no charge*. This will enable you to test the product and see its exceptional qualities for yourself. If you decide to keep the minibar, we will include it in your order at the unit price agreed.
* This offer includes delivery and is made on the premise that the minibar is returned in the same cosmetic and operating condition as delivered. We will make the arrangements for its return. Please note that if there is any fault on receipt, it must be reported in writing within ten days of despatch.
Prices – Please call 020 7199 8210 or email info@a3solutions.co.uk